RRAMP: the Collector, the Archivist & the Electrocrat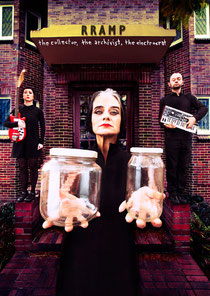 SELECTIONS – COLLECTIONS – RECOLLECTIONS ... SHARP AS ICE AND BITTERSWEET
The lady is a collector. She lives in her big house. She brings home the things she likes. She wanted to have a band. She saw them and decided they were it. The band is RRAMP.

RRAMP is an electronica dance metal rock set reflecting on unexpected and compelling stories of archives, collections, pets, childhood imaginings and human frailty, accompanied by charming and exquisitely simple stop start animations.

The Collector lives with the precious objects and curious memories that she stores in jars in the rooms of her cavernous house. Christine Johnston is the Collector… She has procured two unsuspecting members to join her band… Lisa O'Neill, the dancing Archivist, her much shorter PA, ever willing to be of assistance but off on her own curious bends; and Peter Nelson, the Electrocrat… building the musical score behind his bank of sound technology and instruments, both help the Collector live her dream… while lending a listening ear to her stories, her musical saw and heavy metal guitar.
For RRAMP touring information, please contact info@rramphouse.com
Critical Acclaim
"This dark and sharp piece is visually and aurally beguiling and assaulting all at once. RRamp is exciting and grotesque. It's hard, cold, and as jagged as broken glass; you'll be mildly grossed out and tickled by some of the black sentimentality"

"it's eclectic performance served straight up"

"this show will definitely seduce you…with its wicked sounds and stories…
a talented and tight performance… of edgy and deliciously absurd rock theatre"

Kelli Rogers, Australian Stage online

"Their collective expertise knows few, if any, bounds: they boldly delve into forms including music, dance, theatre, comedy, storytelling, new media and more; seemingly undaunted by the demands it places on them"

"the comically deadpan performances are thoroughly endearing…these stories are charming, surreal and affecting."

"The animations only add to the sincerely homespun charm. The musicianship is practically insurpassable…"

"There's nothing like it anywhere across the broader theatrical landscape…."
Curtain Call online 2012

"With clarity and sophisticated presentation RRAMP takes seemingly banal ideas and elevates them to unexpected stories of love and fragility."
Lesley Graham for The Mercury
Tour History
2012
BRISBANE (QLD) - Brisbane Powerhouse (through Mobile States)
SYDNEY (NSW) - The Performance Space - Carriage Works (through Mobile States)
HOBART (TAS) - Salamanca Arts Centre (through Mobile States)
CAMPBELLTOWN (NSW) - Campbelltown Arts Centre (through Mobile States)
MELBOURNE (VIC) - Arts House (through Mobile States)

2011
BRISBANE (QLD) - Brisbane Powerhouse (World Theatre Festival Scratch Series)
Creative Team
Created & performed by – Christine Johnston, Lisa O'Neill & Peter Nelson
Animation – Ahmarnya Price
Costume designer – Selene Cochrane
Lighting designer  - David Walters
Video production – Jen Jackson
Production Stage Manager – Leila Maraun
Photographer – Sean Young