About rramp house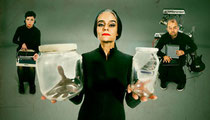 RRAMP HOUSE are a group of artists who create work together.
The collaborators at the helm of RRAMP HOUSE Christine Johnston, Lisa O'Neill, Peter Nelson & Leila Maraun, based in Australia, have worked together for over decade in devising and performing multi art-form performance works across numerous mediums including music, dance, theatre, contemporary performance, comedy and new media.
Previous works include DECENT SPINSTER, PIANISSIMO, MADAME LARK and tour ready productions FLUFF  and RRAMP: THE COLLECTOR, THE ARCHIVIST & THE ELECTROCRAT.